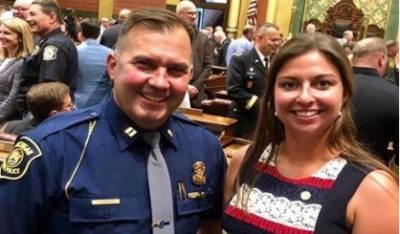 The Michigan Home marked the anniversary of 9/11 with a ceremony on Wednesday. Southwest Michigan lawmakers invited visitors to participate. Amongst them had been Berrien County Sheriff Paul Bailey and Niles Hearth Division Chief Larry Lamb, invited by state Consultant Brad Paquette of Niles. Paquette stated the event referred to as for a salute to first responders.
"Having first responders out right here is humbling as a result of once I can be operating away from a tragedy, these guys can be operating in, and having them sitting subsequent to me in the present day is an absolute honor," Paquette stated.
State Consultant Beth Griffin of Mattawan welcomed Van Buren County Undersheriff Kevin Conklin and South Haven paramedic and firefighter Daybreak Hinz. Griffin thanked them.
"I'm very grateful and really humbled, and simply need to be sure that the whole group understands that in the present day America stands in solidarity and remembrance and everlasting thanks for the sacrifices of the primary responders."
Captain Michael Brown of the Michigan State Police was the visitor of state Consultant Pauline Wendzel of Watervliet. Wendzel stated, "The braveness and sacrifice our women and men in legislation enforcement embody every day is enormously appreciated and revered by the folks of Southwest Michigan."
Pictured: State Consultant Pauline Wendzel and MSP Captain Michael Brown.